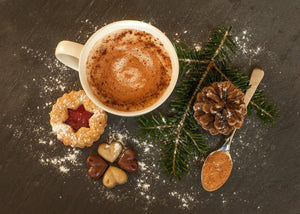 Christmas Eve, chilly afternoons, or when you're feeling blue… any excuse is a good excuse to enjoy a hot cup of chocolate. Satisfying and warming, hot chocolate is always good when made with real chocolate, and even better when spiced with nutmeg and cinnamon. Both nutmeg and cinnamon have comforting flavor profiles that tend to bring memories of special events and holiday meals, making them ideal for Christmas.
In this recipe, we're giving classic hot chocolate an aromatic flavor boost with these two festive spices. Sweet spices have long starred in hot drinks for thousands of years across Mexico--the motherland of cocoa--as they blend in well, adding just a hint of warmth and flavor. If your idea of hot chocolate is the instant kind, we encourage you to take a note from the Mayans, make the most of your spice cabinet, and experience the magic that happens when you marry real chocolate with warm milk and whole spices. You'll soon forget all about the powdered stuff forever.
Ingredients: (Serves four)
800ml whole milk
200ml double cream
125g semisweet chocolate
3 tbsp. brown sugar
1 vanilla pod
1 cinnamon stick
¼ tsp. nutmeg (freshly grated)
Instructions:
In a small saucepan, pour 200ml of the milk, the cream, chocolate, and sugar. Scrape out the seeds from the vanilla pod, and then add the seeds and the empty pod to the milk. Combine all the ingredients together under a medium-low heat. Pour in the remaining milk to the pan and add the cinnamon stick. Then turn the heat up and continue to stir until the milk starts to boil. Lastly, add the freshly grated nutmeg, turn off the heat, and allow the milk to soak up all the flavors, about 20-30 minutes.
Take out the vanilla pod and cinnamon stick just before you pour the hot chocolate into mugs. Serve immediately.
Tip: To add a festive touch, top with whipped cream, then crush a couple candy canes and sprinkle the pieces over the drink. Go on. Treat yourself.