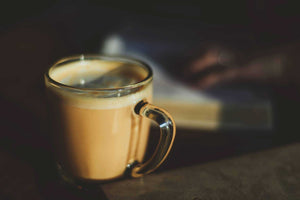 This week's recipe: Masala Tea (Chai)
Masala tea is a traditional Indian drink made by brewing black tea with an aromatic mix of spices and herbs. This fragrant and rich tea is enjoyed around the world—with western versions such as Chai lattes offered in chain coffee shops such as Starbucks and Coffee Bean.
You can now enjoy this traditional Indian goodness with this tried-and-tested recipe that I have come to perfect over the past couple of months. Give it a try and make it your own; add and substitute spices until you find a mix that is perfect for you. This recipe makes 2-3 servings.
Ingredients:
5 pcs green cardamom
1 inch pc fresh ginger
2 cups fresh milk
4 black tea bags
3 star anise
2 bay leaves
1 inch cinnamon sticks
1 tbsp black peppercorns
8 pcs cloves
1 cup water
Directions: Set a sauce pan in low heat and lightly toast all spices except for the ginger. When already fragrant, pour 2 cups of milk, 1 cup water, ginger and the tea bags. Cover and let it simmer for at least 5 minutes.
When the tea is already steeped in the spices according to your preference, remove from the heat, strain and pour in a cup. Add sugar or honey as desired.