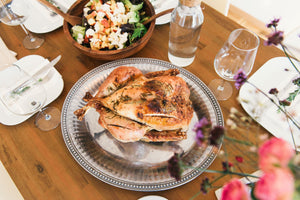 This week's recipe: Rosemary & Lemon Chicken Roast
Roast chicken is the ultimate comfort food and is my go-to dish whenever I entertain friends at home. This recipe is easy to follow and gives you tender, juicy chicken that's wafting with the sweet smell of rosemary, lemon and garlic.
Ingredients:
1 large-sized chicken (about 5 lbs)
Salt
Milled black pepper
1 tbsp dried thyme
2 tbsp dried rosemary
1 lemon, cut in quarters
1 head garlic, cut in half crosswise
2 tbsp melted butter
Olive oil
2 pcs sweet potato
2 pcs carrots
1 pc red onion
Directions:
Preheat oven to 215 degrees Celsius.
Clean the chicken by removing the giblets, excess fats and leftover pin feathers and rinsing the cavity thoroughly. Pat dry with kitchen towels.
Generously sprinkle the insides of the chicken with salt, pepper, dried rosemary, and dried oregano. Stuff the bird with the garlic and lemon quarters. Brush the outside of the chicken with butter and sprinkle with salt, pepper, dried rosemary, and dried oregano. When you're done seasoning the chicken, tie the legs together with kitchen twine and tuck the chicken's wings under it's body.
Cut the sweet potatoes, carrots and red onion into big chunks and spread on the bottom of the baking dish. Sprinkle with a little bit of olive oil and season with salt and pepper. Put the chicken on top of the bed of vegetables with the breast part down. This is to keep the wings from burning.
Roast the chicken for 1 1/2 hours or until the juices run clear. When the chicken turns brown, take it out of the oven and flip so that the breast part will also caramelize and give you a nice brown color. When done roasting, remove the chicken and vegetables to a platter and cover with aluminum foil to let rest for 20 minutes.
Tip: When roasting chicken, make sure that your bird is at room temperature before putting in the oven. Doing so guarantees that your chicken will cook evenly.