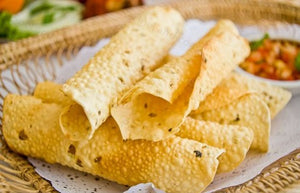 Papadum is a very simple Indian snack dish served often with meals. Also known as Appalam or Papad, it is a light and crispy snack, often deep-fried in any vegetable oil, and sometimes toasted over fire. When fried, the papadum's flour forms hundreds of tiny bubbles all over the disc, letting each disc take on its own distinctive shape.
South Indians love to crumble the crispy fried papadum with their hands and drizzle it over their curry-soaked rice to give their meal a crunchy texture (when eaten quickly before the papadum becomes soggy!). North Indians take a different approach by adding toppings on a whole fried papad (as they call it), and having it as a snack. Toppings include chopped onions, chopped carrots and chutneys. Papadum is often served as an appetizer with mango chutney in Indian restaurants in other countries. Uncooked papadum can also be cut up into pieces and added to curries while cooking to give them an interesting twist.
Papadum is very easy to prepare. Heat up a pan of oil and dunk each slice in the hot oil. Have a pair of tongs ready to quickly flip the papadum and then remove it from the oil, holding it above for 5 seconds to drain excess oil. Place the fried papadum on a dish lined with some paper towels to soak the remaining oil. For an oil-free option you can also toast the papadum on fire (wood fire or gas fire). Move each slice around in fire until it visibly changes throughout the entire slice. Papadum cooks very fast whether toasted or fried so be sure to not let it burn. Watch this video to see it in action:
At Molinos de la Especia, we bring this interesting snack to you in convenient packs of 200 grams and 1 kg. Our papadum comes with bits of cumin to add to its distinctive flavor. To include this light and fluffy snack in your meals, contact us now!